Yeah...there's a lot there! Money is ESSENTIAL to our lives yet we are NEVER taught the basics. And, because our own financial roots are so varied, there is typically a lot of stuff there from how we were raised. This class will teach us how to release our roots, tips to financially organize ourselves and how to start communicating about money so that we can start feeling more solid in this aspect of our lives. Remember, stress affects our hormones, and finances are a huge stress for so many of us!
You will learn:
How to connect with your financial roots and release what doesn't serve you

How to financially organize yourself

How to communicate about money in non-judgmental ways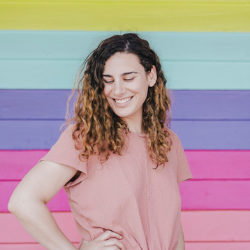 About the Teacher
Kara Perez is the founder of Bravely Go, a feminist financial education company. Bravely focuses on bringing actionable, intersectional and accessible financial education to people via pop up events and online community. Additionally, Kara co hosts the award winning podcast The Fairer Cents, which has been named the top money podcast for women by Forbes and The Balance. Kara has been featured in the New York Times, Forbes, NPR, Glamour, ABC Nightline News, and US News and World Report as a financial expert. She lives in Austin TX.